Another waterfall along the Kancamagus Highway in NH that I recently visited is Sabbaday Falls. This is a beautiful waterfall that is easily accessible on a short trail off the main highway. The trail itself is beautiful, as it follows along the river. Again, I was there past peak, so there was a lot of leaf drop on the trail which I personally love to see and hear the "swishing" of the footsteps through the leaves along the path. Also, the musky earthy smell of walking through the woods in the Fall is one of my favorite scents in the world.
As previously mentioned on another blog post, the water level was really low. Here is a shot I took of the river as I was walking along the trail.
Here is the falls....
There is an upper falls which you can see in this image which is a closer view ....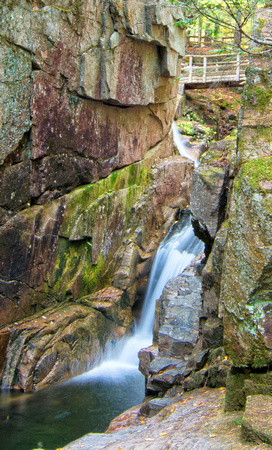 As I sit in my living room typing this blog post, I can smell the earthy pine scent of the woods, and I can hear the roar of the Falls. Such nice memories.