I recently posted a panorama image that I made at Crystal Lake on a perfect Autumn evening, just before sunset. Today's blog post will feature more images taken at Crystal Lake at various times this Fall.
These first two images were taken on Monday Oct third, on an overcast late morning, from the boat ramp at the South end of the lake along Rte 5.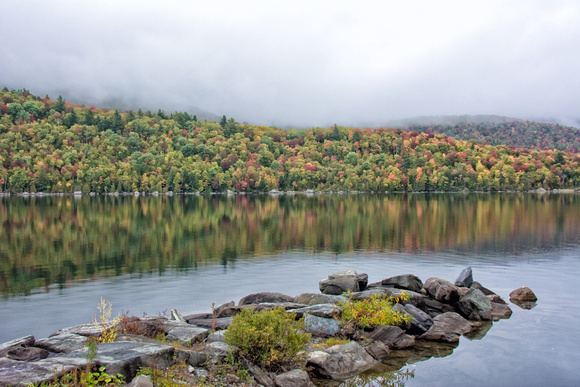 The next few images were taken on Wed. Oct 5th, just before sunset. These were taken along Rte 5 at the North end of the lake on a perfectly calm evening.
Due to the calm wind and still water, the reflections were perfect that evening.
The railroad tracks which run along the lake make a nice forefront interest to these images.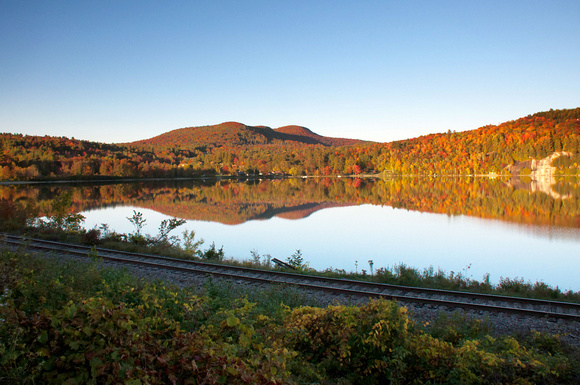 On Saturday Oct 8th, I headed out before sunrise without a destination in mind. I figured I would follow my "gut feeling" as to where to stop to photograph either a sunrise, or the early morning light. As I was driving along Rte 5 at Crystal Lake, I could see a cloud cover to the NorthEast over the lake with a hint of a pink hue forming. My "gut" told me to pull over and set up the tripod at this spot. As I waited, the clouds were getting more dramatic, and were changing colors from the initial light pink, to a deep pink, purple, and orange. It was the most dramatic sky that I saw all week, and was happy to have been able to witness it and capture it with my camera.
This blog post is an example of why it's always a good idea to go back at different times of the day, and different seasons of the year, to photograph a specific location. No two days are ever the same, and it's always exciting to see what Mother Nature brings to you to photograph.