Anthony Gesualdi is a life long resident of the North End of Boston, also known as "Little Italy". Anthony knows the people and the neighborhood....he knows all of the good and bad restaurants, and tells it like it is. I had a FANTASTIC time during one of his walking tours that I recently took with some camera club friends. Anthony took us to local spots that none of the other North End tour guides will take you to see.
Polcaris Coffee Store has been in business since 1932. These are the original scales used to measure the coffee and other goods that are for sale.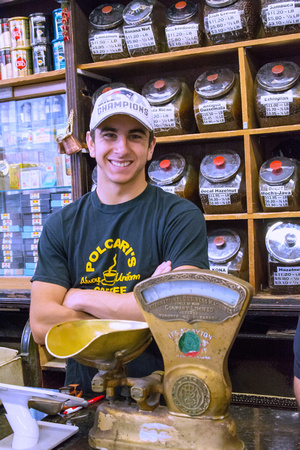 The local barber shop
Inside Monica's Mercato which is a local delicatessen.
We were treated to the most delicious Italian Sub to share. It honestly was the best Italian Sub that I have ever eaten.
A local Hat Making business
An old pay phone
Courtyard behind the Old North Church (which I blogged about a few days ago)
Interior shot of the Old North Church
Copp's Hill Burial Ground
Here we are in front of the Paul Revere Statue
The tour ended at Anthony's "Momma's house" where we gathered at the family dining room table, heard stories of the old neighborhood, and were treated to a pizza from Regina's, as well as a home made meal made by Mama herself. The meal ended with a rum cake from Modern Pastry.
I highly recommend this tour. What a great way to see the North End.
The website if you are interested in more information:
http://www.bostonnorthendtours.com/