The thing about wildlife photography is....sometimes you find 'em and sometimes you don't. At least that has been my experience. Often times when we are in Vermont we go out in the early evenings looking for wildlife, especially moose. We know the areas where they frequently feed, but we don't always get fortunate enough to see them.
Last week, while vacationing in our Barton VT home, Mr S and I took an early evening drive up to Island Pond and Bloomfield to check out the moose hot spots. Here is a typical area where one might find moose up in these parts. This is along South America Pond Road in Bloomfield. It was a perfect evening (except for the skeeters and black flies of course) but we didn't see any moose here.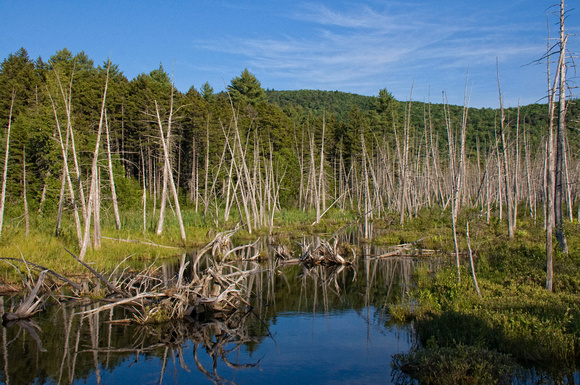 We made our way back to Rte 105, and that's where we found our moose. This looks like a youngster to me from it's size. Probably a one year old maybe?
On the way back home, we found this doe and fawn in a field in Barton. The fawn was so precious!! I wish the grasses weren't so high, but we take what we can get, and let me tell you....these two put big smiles on our faces.
On a different evening, I went out by myself and left Mr S back on the couch. :-0) I was hoping to photograph the freight train which usually runs through the village each evening. I heard the whistle at 7:30 pm the night before, so I got myself in place the following evening by around 6:45. I found a spot where the train would pass an outlet to Crystal Lake and was thinking I would get reflections of the train in the water. Guess what???? Yup....the train didn't come by that night.
So, I switched to plan B and did some bird photography and found this beautiful Eastern Pheobe while I was waiting for the train that never arrived.
Hopefully will catch the train on my next try!