I went to photograph Marshfield Pond in Marshfield VT one early morning last week. This is a beautiful spot for early morning photography....especially on a foggy morning. I've never visited this spot before, and I knew that all of the elements were going to come together on this particular morning to make some special images. I left my house in Barton around 5:15 AM to arrive by sunrise. I typically have a very good sense of direction and very rarely get lost, but on this very foggy morning, I got a little disoriented and a little lost. Just a little......and I realized my error in little time, however this error delayed my arrival at the pond. I wanted to be there and set up before the sun rose, but ended up arriving about five minutes after sunrise.
As the sun and clouds were quickly moving, the lighting was changing just as quickly and dramatically.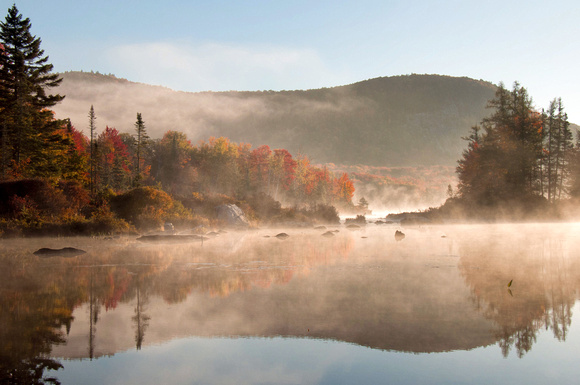 This was probably my favorite spot that I photographed in VT this Fall. There are several other ponds which I visited, and they will be featured on upcoming blog posts.
On another note, I took a day trip to the Kancamagus Highway in New Hampshire yesterday. It was a glorious day. Those images will also be appearing here on the blog. I'm happy to have so much material to share with you, as my opportunity to shoot the Fall foliage is coming to an abrupt end this week. More on that in a few days. Stay tuned and thank you for your visits to the blog. It means a lot to me.