Throughout the years, you have seen me post many images of May Pond, which is one of my favorite places on the planet. I just love the quiet solitude that I find here, and it brings a peaceful feeling to my soul. Sounds nerdy, but it's really how I feel.
One of my favorite things about landscape photography is the fact that you can repeatedly photograph the same place, yet no two pictures are ever the same. I have photographed here during each of the four Seasons that New England has to offer and each season has it's own unique perspective. I've also photographed at different times of the day......from early morning at sunrise, to late day near sunset, and each time of the day offers different light which brings a different perspective. Also, you have seen some night sky photographs that I have taken here as well.
I just got home from a Summer family vacation up to our VT home. This was not a photography trip so I didn't take too many photographs. However, one evening before sunset I went out on my own (with my camera of course) to May Pond. Here is a Summer evening view of my little piece of Heaven on Earth.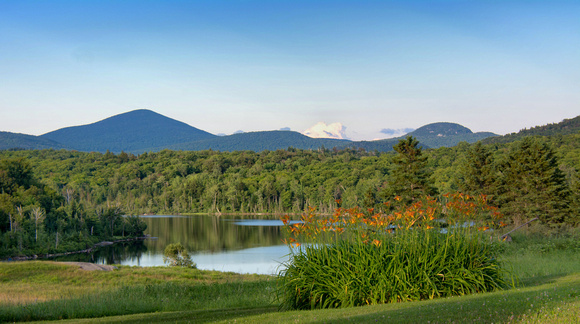 A 14 image panorama stitched together using Lightroom.
In this crazy world in which we live, it's so good for the soul to to have a place such as this.